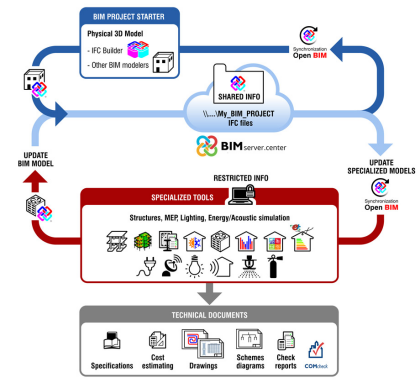 Integration in the Open BIM workflow
CYPELUX is integrated in the Open BIM workflow proposed by CYPE:


Importing BIM models (IFC4 and IFC2x3) generated by CAD/BIM programs


Exporting data files in IFC format


Synchronization with the BIM model


Further information about this collaborative, multidisciplinary, and multiuser methodology is available on the Open BIM workflow website.
Importing lighting files in EULUMDAT and IES formats
CYPELUX allows the lighting files to be imported in the following formats:
EULUMDAT
Standard format in Europe for photometric data ("ldt" extension)
IES
Standard format in North America for photometric data ("ies" extension)
Normal lighting
CYPELUX carries out the following normal lighting calculations:
Calculation of the lighting level of the installation measured at workplane level.
Calculation of the energy efficiency value of the installation.
Calculation of the glare level based on the UGR defined in code CIE 117:1995 (Discomfort glare in interior lighting).
Calculation of the maintenance factor according to the proposed method in the CIE 97:2005 code (Guide on the maintenance of indoor electric lighting systems) for indoor.
Emergency lighting
CYPELUX carries out the following emergency lighting calculations:
Calculation of the lighting level of the emergency lighting installation measured at floor level
Allows security and protection equipment layout (safety equipment, fire-safety equipment, lighting distribution panel, etc.)
Allows escape route layout and calculates the necessary parameters of lighting and uniformity required to comply with current regulations.
Calculation annex
CYPELUX generates a calculation annex, as well as the design values, the properties of the space and the normal and emergency lighting installations used.
More information
User license
CYPELUX is a free program, so no licence is required to carry out the aforementioned calculations.
Compliance with the requirements that must be met according to the different national and international regulations is evaluated in other CYPE programs which do require their own licenses: CYPELUX CTE (Spain), CYPELUX RECS (Portugal), CYPELUX HQE (France) y CYPELUX EN (International).